August 10, 2016
Unlike any other. This skincare line has changed the way we think about our AM and PM routine and the Good Life family is so honored to introduce 'H is for Love'!
'H' products are designed to work in complete harmony in a way that our skin understands. The blends of cold-pressed, unrefined oils and botanical actives work together to bring the skin back into balance, delivering wildly tangible results …and a glow that's out of this world.
Here are the components of the 'H is for Love' Line — benefits + how to use……slash, how to GET THAT GLOW:
RAPHA HARMONIZING CLEANSER
Cleansing is the first morning self-care ritual and the last to be done before sleep. Because of this, the task of creating cellular harmony as a basis upon which to build is vital. RAPHA is a cellular-level communicator, speaking the language of peace and harmony to skin. It's oil cleansing at its finest.
A combination of oils and essential oils which, when blended in perfect measure, prepare you for waking and for slumbering. RAPHA's foundation infuses nutrient-rich oils with herbs complimented by antibacterial, anti-inflammatory and highly soothing essential oils, giving skin a pathway to health and framework for vitality.
As a nighttime cleanser, the scent of RAPHA is a delight, calming nerves and invoking a sense of peace. For morning use, it is spirited and uplifting.
RAPHA contains a CO2 extraction of German Chamomile which is known for its high levels of matricin. Highly anti-inflammatory, matricin is a powerful agent of healing.
TO USE: A.M.: Massage a small amount of cleanser into damp skin. With a warm, damp cloth, steam face for a minimum of 10 seconds. Gently wipe away remaining oil. P.M.: Massage 4-6 pumps of cleanser into dry skin. Allow the nutrient-rich herbal oils to fully dissolve makeup and debris. Steam and remove as above. Follow with a gentle exfoliant when necessary. It may also be massaged into dry skin and removed with a dry cloth if cleansing with water is not the preferred method.
PROPOLIS REGENERATIVE FACE MASK
Its an absolute miracle; full of rare and precious ingredients that stimulate cell renewal and rid the skin of impurities, leaving your face smooth and radiant.
Camu camu is one of nature's highest sources of vitamin C, vital for the production of collagen. This weekly indulgence contains rare and skin-brightening white turmeric, spices that encourage blood flow to the surface of the skin, a massive dose of minerals, and the antioxidant-rich superfoods raw cacao and vanilla bean.
Some experience a tingling sensation as PROPOLIS dries. This awareness can also vary day to day with the same person. We happen to love this feeling, and look forward to this as a sign that the mask is purifying and depositing.
TO USE: Take two teaspoons dry powder and add water (or whole milk organic yogurt, or raw honey*) drop by drop until a mud-like consistency is reached. Apply to face. Once mask has almost dried (about 20 minutes), reconstitute with a warm, damp washcloth and gently wipe away.
PROPOLIS can be used as an exfoliating cleanser, which is a wonderful option when time does not allow for the lengthier mask experience. Simply add a small amount of dry powder to your hand with an equal amount of water, with a gentle touch massage onto face taking your time to stimulate blood flow and release dead skin cells. Leave on for one minute and then rinse away as you would a normal cleanser.
*The use of yogurt or honey in dry winter months adds much needed moisture. Can be used as a spot treatment for troublesome areas.
NECTAR NOURISHING FACE OIL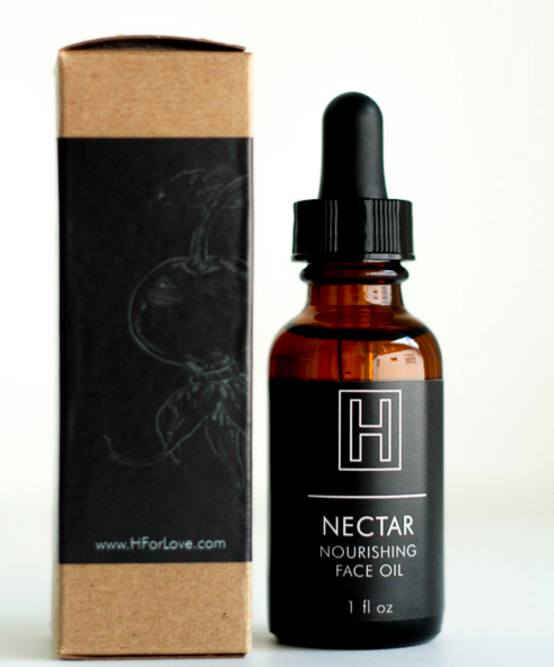 The word nectar (greek νέκταρ- meaning to overcome death) was originally made to describe a kind of nourishment so perfect it caused the gods to thrive, rejoicing in their immortality. Any mortal who could obtain a sip of this potent living liquid would find life eternal. NECTAR is a potent healer which encourages cell renewal, scavenges free-radicals and effortlessly moisturizes with nourishment fit for the gods.
Grapeseed and squalane oils reach deep into pores without leaving a greasy residue. Calendula soothes and calms irritated skin. Argan oil smoothes the appearance of fine lines, and rosehip seed oil, full of essential fatty acids, is a superstar when it comes to fighting signs of aging. Baobab and macadamia nut oils are rich and plumping and all that your skin could need for a full day of moisture. A scent that is fresh and sweet, lingering just long enough to awaken the senses.
With a symbiotic blend of cold-pressed plant oils and steam distilled essential oils that are anti-bacterial, anti-fungal, cell-regenerative, astringent and brightening, daily use of this oil will balance your complexion while providing all the nourishment your skin needs from the outside in. Customize this to your skin's unique needs by simply adding or subtracting a few drops.
TO USE: While skin is still damp from cleansing or toning, apply several drops to palm using fingers to gently massage into face and neck. The warmth from this repetitive motion brings nutrient-rich blood to the surface of the skin, which encourages cell turnover and leads to the production of collagen.
POLLEN ILLUMINATING MIST
A mist or toner is a necessity in any complete skincare regimen. Because the pH (potential hydrogen) of most tap water is more alkaline than the natural pH of facial skin, it is important to re-introduce balance after cleansing.
Rose hydrosol evens skin-tone, and fractionally distilled aloe has been organically grown to isolate only the most beneficial components of Aloe Vera Barbadensis Miller.
A delicate floral blend of essential oils, skin-softening vegetable glycerine, and just enough witch hazel to provide anti-inflammatory and astringent benefits, POLLEN will quickly become an enjoyable addition to your self care ritual.
TO USE: Gently rotate bottle, then mist onto freshly cleansed face and neck. For an added boost spray face again after applying face oil. Use to set makeup and as often as desired.
BARA BALM FACIAL EMOLLIENT
BARA BALM is their answer to skin in need. Sometimes skin needs a little extra to soothe and protect. BARA is formulated to take moisturizing to another level. Each ingredient has been chosen to soften skin, absorbing quickly, leaving your face with an ultra sheer layer of protection against environmental assault. BARA feels light, and has a delightfully sweet and uplifting scent. Its texture is extremely smooth and melts into skin with ease.
TO USE: Use it on its own, as an added boost to your face oil or as a spot treatment wherever extra love may be required. Warm a small amount of balm between fingers and apply a thin layer to face and neck.
PALMAROSA LIP CONDITIONER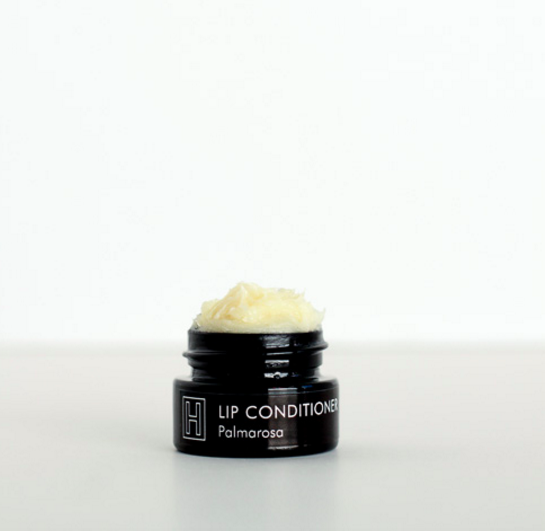 Their long lasting Lip Conditioner is a multi-purpose balm. Formulated to draw and hold moisture, its benefits can be felt long after application. Macadamia nut oil is easily absorbed and nourishes lips from the inside, while deeply moisturizing butters and pomegranate seed oil protect and heal. Subtly flavored with citrus and mint, and a hint of one of our favorite essential oils, palmarosa. You will love this lip conditioner, we know it.
Note! They created this buttery balm to be at optimal texture and consistency between 68-72 degrees F (the average temperature of a home). If you accidentally leave your Lip Conditioner in a very hot car you may find it has liquified. Simply place your jar into the refrigerator to speed the cooling process. No matter how cold or hot, the soothing and nourishing benefits remain!
TO USE: Apply a thin layer for use as a standard lip conditioner. May be layered to achieve a touch of shine. After application, massage any remaining product into cuticles to ensure they remain healthy and strong.
READY TO SHOP? SHOP 'H' NOW.
*descriptions and usage via H is for Love